Speech and Language Assessments
Conveniently located to serve the areas of Santa Monica, Venice, South Bay, Brentwood, Beverly Hills, Pasadena and all of Greater Los Angeles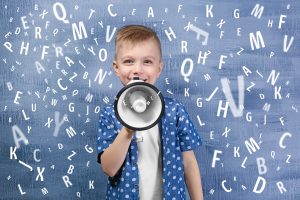 Speech and language evaluations are used to identify and describe a delay or disorder in any skill related to communication functions. Although related, speech and language are two distinct processes with different approaches to assessment. Language assessments examine performance on expressive and receptive language tasks across the primary areas of language function: phonology, morphology, semantics, syntax and pragmatics.
Language and cognition are closely interconnected therefore cognitive-linguistic skills are also assessed to describe the interaction between various cognitive skills such as memory, and language skills, such as comprehension, to determine which skills are at the heart of the problem. Language assessments are therefore a crucial part of the differential diagnoses of a language based delay or disorder from a cognitively based disorder. The evaluation also examines how language delays impact reading, writing and social interactions. Speech assessments focus on the structure and function of the speech mechanism and oral motor structures for speech production and swallowing.
The speech and language assessments encompass a broad range of tests and measures which provide information about an individual's expressive/oral language skills and their receptive language/comprehension skills. The assessment may be performed as young as 12 months and as old as 90 years of age. The assessment includes the clinical interview, observations and observational rating scales performed in a variety of settings, questionnaires for parents/caregivers and teachers, and psychometric/standardized tests.
Speech Assessments
When an individual is referred for a speech delay, a comprehensive assessment of the oral mechanism structures and physiologic functions are conducted. Speech assessments will vary tremendously depending upon the presenting diagnosis or condition. Assessments for more complex speech delays such as apraxia, dysarthrias, or fluency/stuttering will incorporate several different elements, specific to the diagnoses, that are not a part of the general speech assessment.
In general, all speech assessments will include an oral mechanism exam and oral motor assessment where both the structural and functional integrity of the structures of the speech mechanism are assessed. It will also include an assessment of speech fluency, resonance and speech intelligibility/articulation.
Two primary areas of a speech assessment are articulation and phonological processing skills. These two areas are assessed through formal psychometric testing as well as informal observational tasks where a speech sample is typically recorded. The speech sample is then analyzed to determine characteristics of spontaneous speech. Speech samples are typically performed on children as they are learning how to connect words into sentences and conversation.
More complex speech evaluations will involve in-depth assessments of motor function and motor planning for other diagnoses such as apraxia and dysarthria.
Assessments that may be used:
The Goldman Fristoe Test of Articulation – GFTA
The Khan Lewis Phonological Analysis – KLPA
Clinical Assessment of Articulation and Phonology – CAAP
Kaufman Speech Praxis Test for Children – KSPT
Stuttering Severity Instrument – SSI
Comprehensive Test of Phonological Processing – CTOPP
Language Assessments
Language assessments include both formal and informal observations of expressive and receptive language skills across five main areas of language: semantics, syntax, phonology, morphology, pragmatics and metalinguistic or language competence skills. Cognitive-linguistic elements are also incorporated into the language assessment to differentiate between the cognitive underpinnings of a delay versus the language underpinnings of a delay. The language assessment may also include broad assessments in the areas of oral language skills, language processing abilities, skills related to nonverbal learning disorders, auditory processing skills, reading skills, and writing skills. Although these areas are initially assessed broadly in the general language assessment, more in-depth testing in these areas may be performed.
Assessments that may be used in this domain are:
Clinical Evaluation of Language Fundamentals – CELF-5
Test of Auditory Processing Skills – TAPS-3
Woodcock-Johnson Tests of Oral Language – WJIV
Test of Language Competence – TLC
Language Processing Test – LPT-3
Test for Auditory Comprehension of Language – TACL-3
Comprehensive Assessment of Spoken Language – CASL
Preschool Language Scale – PLS-5
SCAN Test for Auditory Processing Disorders – SCAN-3
Differential Test for Processing
Receptive-Expressive Observation Scale – REO