Writing Disorders
Conveniently located to serve the areas of Santa Monica, Venice, South Bay, Brentwood, Beverly Hills, Pasadena and all of Greater Los Angeles
What is a Writing Disorder
Writing disorders are classified under language disorders because it represents an expressive language task which requires the integration of multiple language modalities in addition to the visual motor and visual perceptual modalities.
Dysgraphia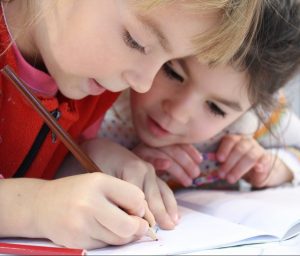 This is a term used to describe any problems with the writing process, the execution of writing, and/or the finished product. The writing process requires skills in the transcription of the words, a motor skill, as well as the cognitive-linguistic elements of writing such as processing, sequencing, memory, spelling and other language based modalities such as syntax.
The finished product involves a series of skills incorporating both cognitive and language based skills such as thought organization, expression of thoughts, word choice, spelling skills, and sentence construction skills including grammar. Individuals with dysgraphia will demonstrate any combination of deficits across all 5 domains of language as well as deficits in visual perceptual and/or visual motor skills. If the problem is in the area of the writing process, deficits will most likely be in the areas of semantics and pragmatics. If the deficits exist in the finished written product, there may be issues in any one or combination of all 5 domains of language.
Common Signs and Symptoms
Language disorders present differently at different ages and stages of development. They also present differently based on whether they are developmental in nature or acquired. When normal language and/or speech milestones are not reached there may be cause for concern. Knowledge of these developmental milestones can assist in determining if there should be cause for concern. There are some common characteristics that can be seen as predictors of children who are at risk for any type of speech and/or language delays. These predictors include:
Limited patterns of sound production in infancy and as toddlers
Limited verbal variety
Limited or delayed use of consonants and vowels (phonological skills)
Lack of or limited imitation skills
Poor development or lack of growth in play behaviors
Limited or immature nonverbal communication skills such ass gestures
Behavioral problems and poor social skills
Co-Morbidities
Language delays and disorders are hallmark features of a number of developmental delays, behavioral issues, learning disabilities, and other medical conditions.
Autism Spectrum Disorders
ADHD
Nonverbal Learning Disorders
Anxiety
Obsessive-Compulsive Disorders
Sensory Disorders

Developmental Coordination Disorders
Cognitive Disabilities
Hearing impairments
Behavioral Problems
Risk Factors
Family history
History of ear infections (otitis media)
Family demographics (socioeconomic status)
Delayed attainment of developmental milestones
Medical complications during birth

Presence of other learning disabilities
Presence of other developmental delays
Presence of behavioral conditions
Medical conditions/complications
Presence of other conditions